For someone with only staples, poundland & the range to buy craft items from locally at hobbycrafts I was like a kiddies in a sweet shop! It helped to know your prices, & to look round first & then buy, the prices of EXACTLY the samething varied from stall to stall.
I was on the look out for Magnolia stamps as well as letters, & other cute stamps. I also wanted to avoid papers, I have hundreds so want to use a few of those up before getting more unless its for a particular project.
I didnt get any letters as apart from wooden ones, which got expensive with all the ones I needed, & rubber stamp ones, which the ones I liked were expensive, there werent any the right size, guess I'm just too fussy, lol.
Heres what I did buy:
(click to enlarge)
A couple of A4 holographic papers I thought I could use for boxes or on cards, one has babies alphabetical building blocks, & the other is birthday party orientated.
There were so many bargain buckets etc with embelishments & stickers in! I chose
Tiny Angel wing stickers
Tiny Bunneh Rabbits
Black & red Mei flowers
Dovecraft crystal effect letters (3 different sorts)
Dovecraft crystal effect tags
Dovecraft crystal effect baby boy
Dovecraft crystal effect wedding
Dovecraft Chipboard stickers - beach
Dovecraft Chipboard stickers - Love
Dovecraft Chipboard stickers - Christmas
Dovecraft Chipboard stickers - Baby
The Triceratops & pirate mice can be ironed onto clothes or stuck onto cards. PLM gave me the fab idea of keeping an eye on any old clothes that my little ones grow out of, any logos, embroidery etc can be take off & stuck in scrapbooks/cards.
The butterflies were 3 for £1
The smallest of charms were 10 for £1
& the larger ones were 5 for £1
I also picked up a pack of "bows"
I love stamping, its almost as addictive as collecting pretty papers, one of my fav techniques is powder embossing so i picked up a couple of powders in my fav colours (black & red), & a clear away tray to catch the powder.
I also got glossy accents, I've been meaning to try this out as I think the technique is sooooo effective.
The giraffe & elephant stamps were so cute, & can be used for alsorts of occassions.
The wooden stamp I just thought was fab.
The swirls was bought with mono style cards, or scrapbooking.
The pen stamp I got with the thought that I could write something on a scrapbook, then stamp, emboss & colour a pen, so it looks like its still writing, or just been put down for a moment.
& I got the tiny little hands free, yay for freebies! thast because I spent more than £10 on the 1 stall, I didnt even know about the freebie incentive but was happy to receive it :)
Not only did we find Magnolia stamps, but 2, yes 2 Magnolia bargain buckets!!!
The first little girl reminds me of a windy spring day, or any season depending on the colours I use.
I though Father Christmas was offering a cuddle, very heart warming


But my Fav stash was the items Furry gave me, it was such a surprise, a very nice surprise :) With thought put behind all of it.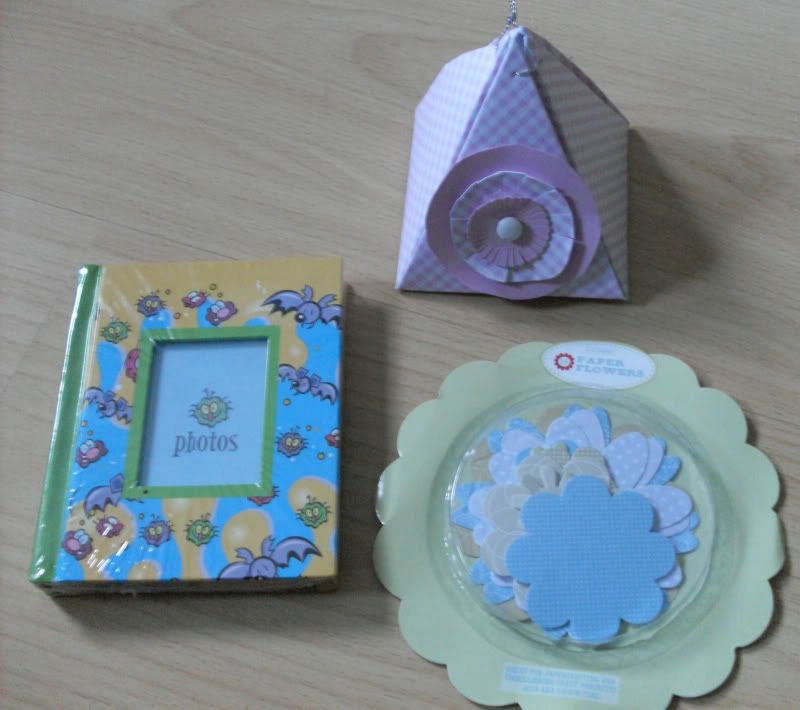 My fav animal is bats, & my lil photo album has bats on it! suits me as I'm kinda batty, lol. & the flower die cuts are fab, specially after what we learnt about neutral tones. I love these pyramid boxes, might make a few for the christmas tree with sweets, or small pressies in. These were even nicer boxes as they has kisses in them!!!
Hersheys kisses, I'd always wondered what they were like as a lot of american sites go on about them, & now I know, yayayayayayayay . Thank you Ruth xx
& finally, favourist,
favourite
item
My lil furrypig tag made by Furrypigs talented daughter, with a nice lil personal note in it from Furrypig.