For his 2nd birthday I'm changing my sons Winnie The Pooh themed bedroom to In the Night Garden. His room is basically white with a pale yellow wall. To give it a WTP theme he has a WTP Rug, curtains, paintings, poster, stickers on his tubs, height chart, clock, bedding (including headboard & head bumper), door plaque & cuddly toys. All these will be replaced in some way with In the Night Garden products. HOWEVER, these cost a bomb, all you need to do is see "In the night garden" on something & you can add £10 to the price, so I'll be looking for the cheapest way to replace them while maintaining quality.

I have so far bought a rug & clock through a catalogue with cashback via the same catalogue. I looked up the prices of the official curtains & bedding, the prices shocked me! Even on ebay they were pricey, except I found a seller who I could buy 3 ITNG duvet covers from for £30 including P&P. I can use these to make the 3 curtains I need, cot bed sized duvet covers, & cover the headboard. If theres any left over I might make a laundry bag &/or back pack.



I decided to make a start on the paintings. I bought a couple of canvas' from poundland, they're not as smooth as more expensive ones, & are a tiny bit loose, but were perfect for what I wanted. I googled for some piccies of the characters of ITNG & chose two of my favourites.

I edited them a little with adobe paintbrush and printed onto A4 paper. I then scribbled over the back with a soft pencil.. I turned it over, positioned it onto the canvas & carefully drew over the lines.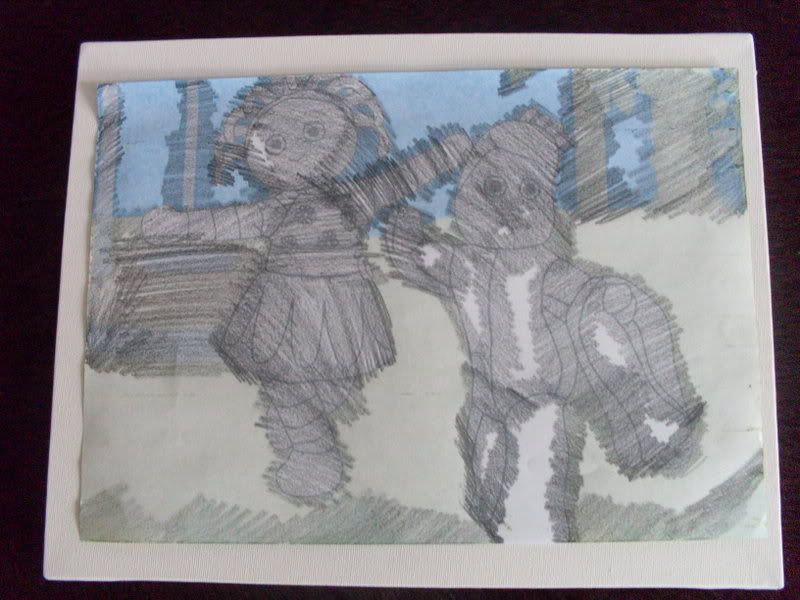 This left the image on the canvas which I went over all the pale lines on. Now the fun part PAINTING! I started with the background & tried to build it up from the items that were furthest away to those closest. This way I didnt need to worry too much about going over some of the lines as I could paint over it.
Each time I finished with a colour I would cover the pot in clingfilm incase I needed it again for another part or touch ups.
Are being replaced with these two bigger ones:
Next on my list is to make a foam door plaque.