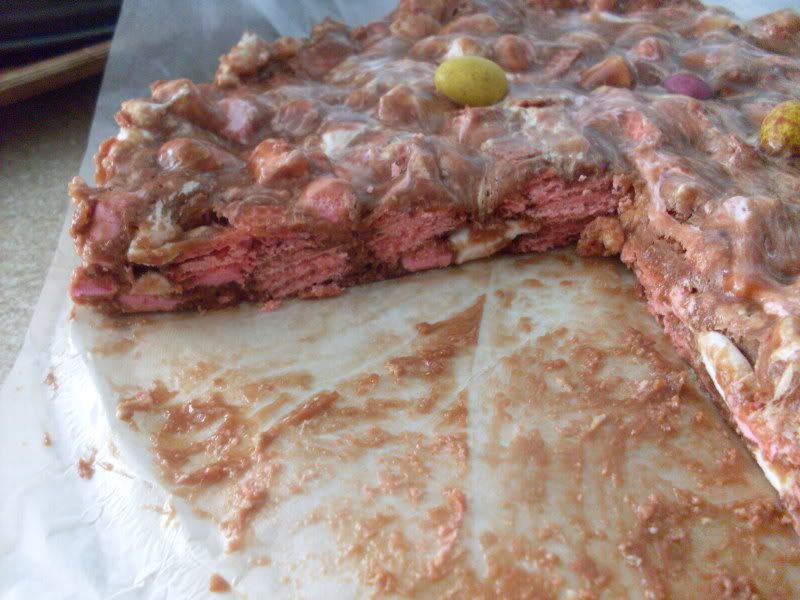 I saw in a little booklet in Sainsburys a recipe for Rocky Road with pink wafers in & mini eggs on top, mmmmmm, sounded delish, so I decided to try a variation of it.
I used
Rainmacs Rocky Road recipe
but altered it slightly. I used broken pink wafers instead of choc chip cookies & swapped the fruit for mini eggs. I also used 1/2 the amount of chocolate (using galaxy) & 200g marshmallows. I poured the marshmallows in while the saucepan was still warm after melting the syrup, butter & chocolate, which made about 50% of the marshmallows melt. I t looked lovely & gooey.
I dont have a square tin, but found a large round one, works just as well.
It was a lot stickier than the one I made previously using Rainmacs recipe, must be the quantity of melted Marshmallows. It can be eaten by hand, just about, without making your fingers sticky but better with a spoon. The mini eggs mixed in were divine, there wasnt many but when you bit into one you suddenly got a wave of cadburys chocolate in contrast to the galaxy.
Definately one I'll be trying again, maybe with a few less marshmallows & more choccy :)