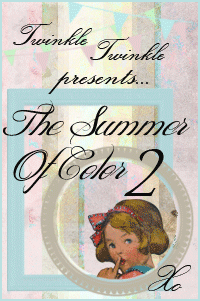 Over at
Twinkle Twinkle
it is the summer of colour! Each week an inspiring ice cream image will be posted, inspiring because all who join in take the colours from that flavour to work with. This weeks was Rainbow Sherbet. This is my FAVOURITE flavour, I usually have it from Millies cookies with blueberry sherbet as well, yummy! The colours however are so NOT me, lol, they are quite scary, bright pink with orange, yellow & a bit of white, even more scary when most of my scrapbooking is done with photos of my lads who themselves usually have very little to do with those colours. I saw it as a challenge & faced it head on & ended up rather pleased with the result.......
A simple layout but I think it shows everything up nicely. The pinks & oranges reflect the heat so much in the photos though the photo of the page doesnt show the vibrance of the papers enough.
Thank you to
Carmen
for introducing me to this event, & to Kristin for running it.