One of my favourite puddings are Profiteroles and Eclairs, I count them as one as its only really the shape that alters them from the one to the other. They are sooooooooo simple to make but will impress your guests.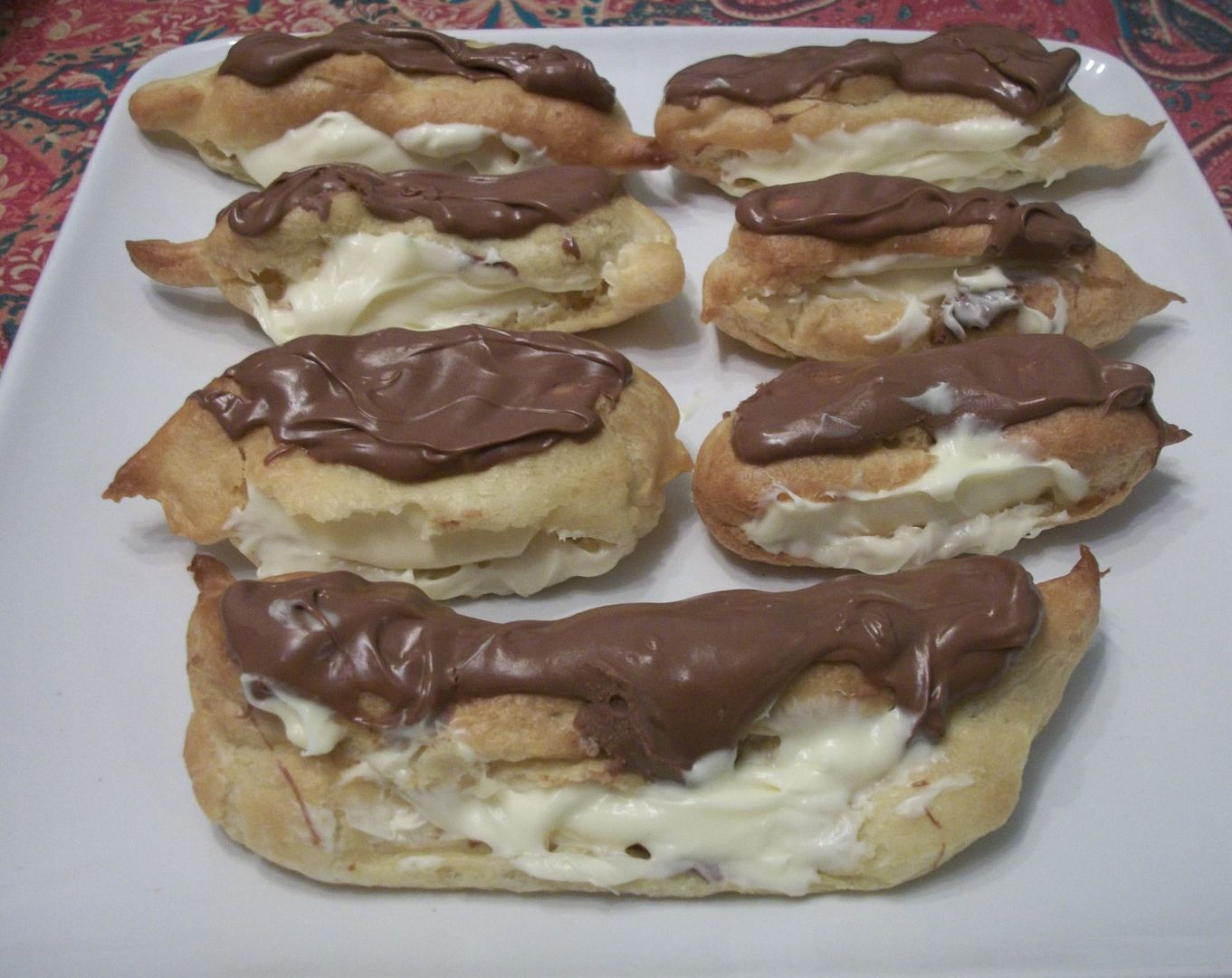 Ingredients:
50g (2oz) butter or Marg
60g (2 1/2oz) plain flour (all purpose flour)
2 eggs, well beaten
150ml (1/4pt) water
125g (4oz) chocolate
a small carton whipping cream
Method:
Grease a baking sheet and dampen it under a cold tap for a few seconds - place to one side until needed.
Cut all the butter and heat it in a saucepan with the water. Sift the flour into a bowl.
When the mixture in the saucepan begins to boil take it off the heat & tip in all the flour in one go.
Beat the mixture until it is smooth and comes away from the sides of the pan. This only takes a minute or two.
Cool the mixture for 5mins then beat in the egg a bit at a time to make a thick, smooth, glossy paste
Turn the oven on to 200C, 400F, gas Mark 6.
Put teaspoons of pastry on the baking sheet and put in the oven. (for eclairs put the pastry into lines, you could even do this with an icing bag) After 10mins turn the temperature upto 220C, 425F, gas mark 7
Bake for another 15-20mins, then peep into the oven. The buns should look puffy and golden brown.
Put them onto a wire rack & prick a hole into the side of them to let out steam, otherwise they'll get soggy & collapse.
Put the chocolate into a bowl. then gently heat this over a pan of water until the chocolate melts. Stir until smooth & scoop over the eclairs.
When the eclairs have cooled make a larger hole in the side and fill with whipped cream - I find this easiest to do with a good quality icing bag with a nozzle on, that way you can just pop the nozzle inside & squeeze the cream in.
Tada, all done & ready to eat!