This week has been fairly peaceful with Zack cracking on with painting his room and Kai playing with his trains and farm animals.
1. Blackberry picking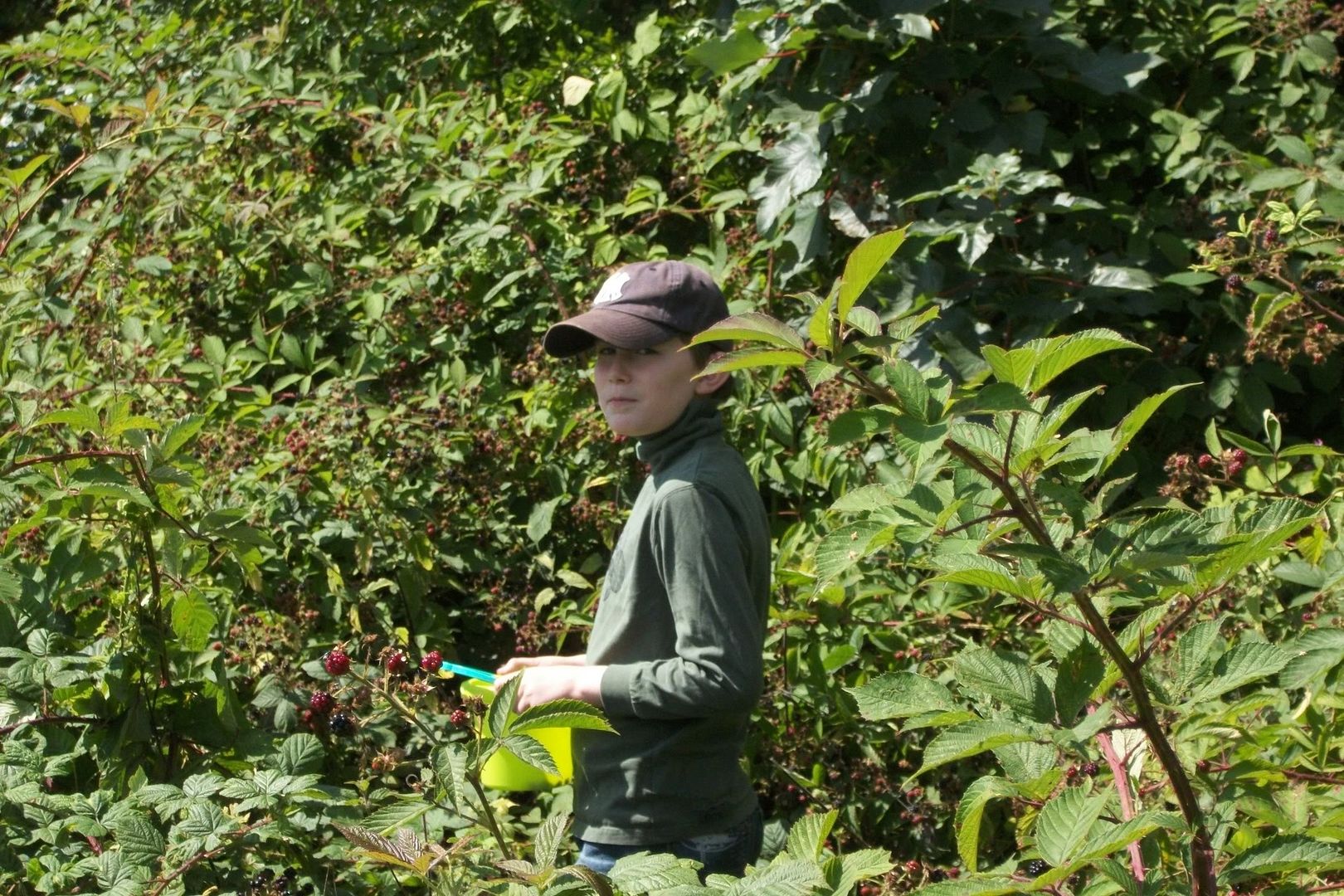 Blackberries are in season at the moment and it doesnt take us much of a walk to find quite a nice lot of them. I told the kids to wear long sleeved T-shirts to prevent them getting stung by nettles or their arms scratched so Zack goes one better & wears a thin polo top.
2. Local Animals / wildlife
While picking blackberries we kind of got very distracted by 3 horses in a nearby field. All were very tame and were happy to be fed grass the kids pulled up for them (remembering the "keep you hand flat" rule). Everytime we went back to blackberry picking the horse in the photo would neigh loudly to call us back.
3. Blackberry Mess
Because of being distracted we ended up not picking many blackberries (we shall return another day for more) but there was enough for them to make Blackberry Mess (like Eton mess but with blackberries instead of strawberries). Oh my word it was YUM!! I shall post the recipe on monday for anyone who wants to try it.

4. Chalking Outside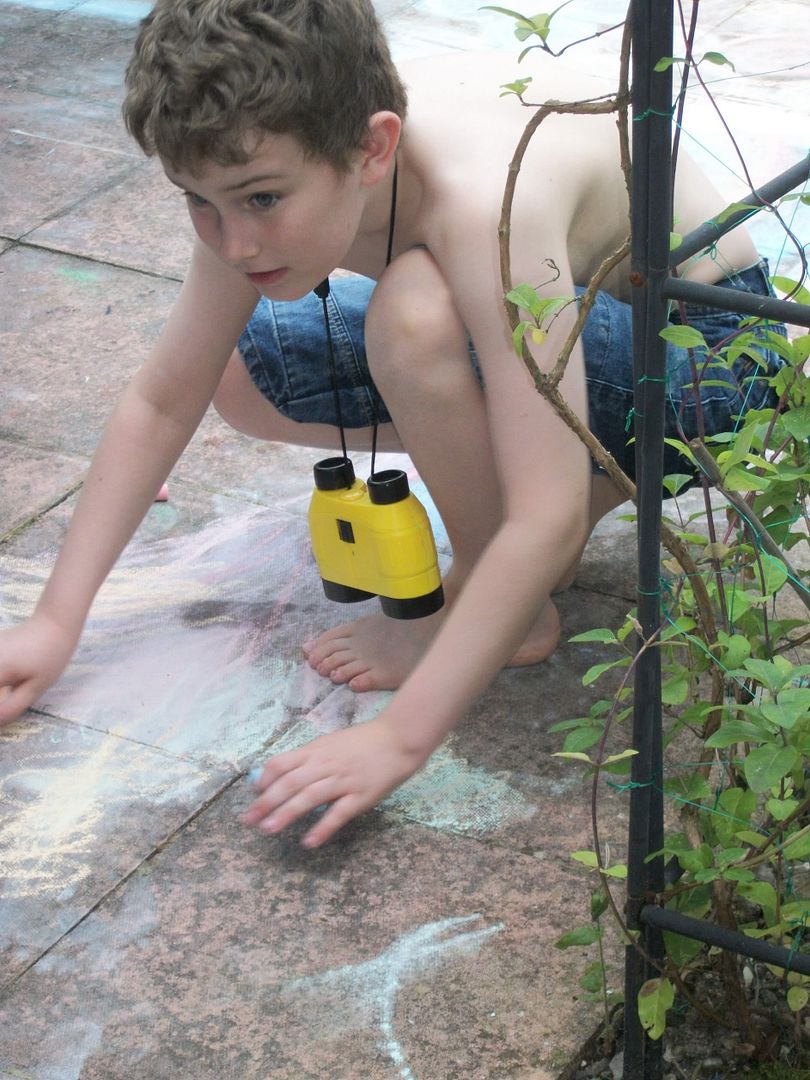 While the weather was dry both children enjoyed using chalks on our slabs (thanks Carmen for the idea), as did I. I found the big chunky chalks lasted a lot longer than normal size ones which lasted about 2 minutes.

5. Trampolining / Photo fun
Most days both Zack and Kai go on the trampoline (even in the rain) but this time I took the camera out and told them to jump after 3, as they jumped I pressed the button to take a photo then showed them the result. We did it lots of times with them jumping in different ways to catch them mid-flight. Some of them look really funny with the faces they pull without knowing when they jump.
6. Carrot cake
We did a bit more cooking, making carrot cake this time. We made one large one & six muffin sized & it was so lovely & light. Kai got upset because he wanted to eat all the raw mix and not cook any of it whereas Zack was surprised you couldnt taste the carrots at all. I explained to Zack that it was an old way of sweetening food that dated back to the greeks but was reintroduced into the British diet with war rationing.

7. Gluing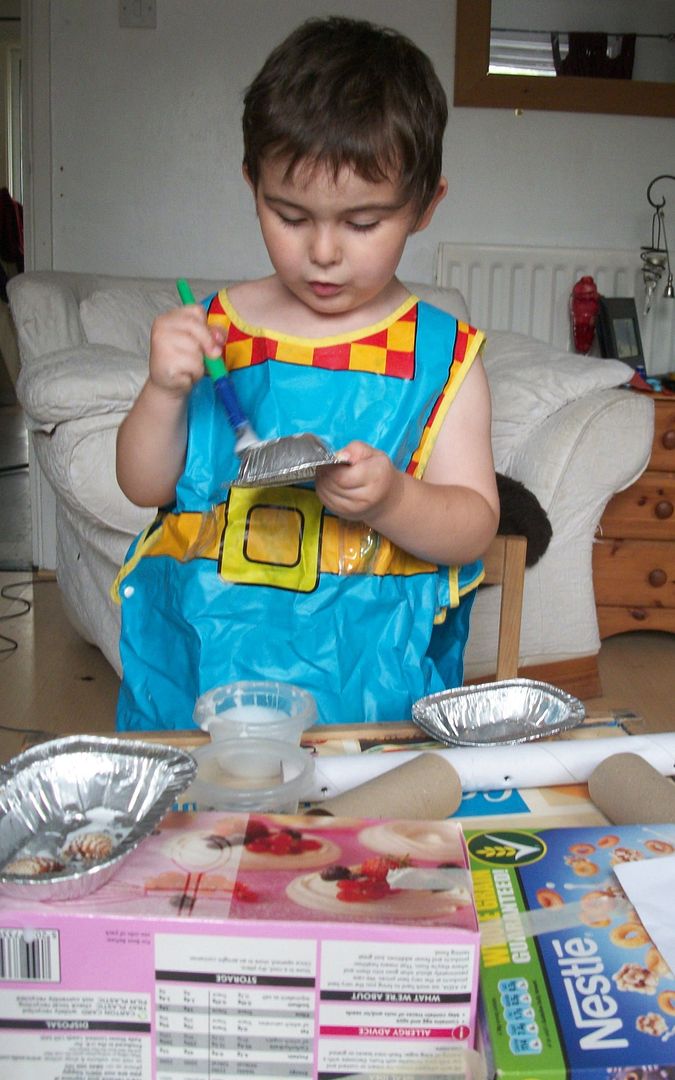 Kai wanted to do some gluing so I got out some boxes I'd been saving for just such an occassion, along with empty loo rolls, pie tins, sequins and pasta shapes. He made a lovely robot (with a tiny bit of help to make it stick properly) which is drying nicely ready to paint another day.
8. Scrapbooking

While Kai was doing that I got Zack making a scrapbook page we'd talked about for a little while (he didnt want to build anything out of boxes). I showed him a few layouts & talked to him about looking at the photos, stickers, paper etc and jotting ideas down on paper before finalising a page. Also about putting paper etc on top of each other to check the colours go.
He designed a great sketch which you can see the start of his layout above. I got him to hand write the journalling so that when hes older he can see what his handwriting used to be like.
Thanks to Nicky & Carmen again for your wonderful links. Please dont be shy peeps, add your links & let us all see what you've been upto this summer holidays.