Can you believe its friday again! The weeks are busy at the moment & rather fun at times...
I spent a lovely morning at Kai's nursery last friday morning making a collage.

Kai makes me giggle at times with his clothes. He's very independent when it comes to choosing what he wants to wear outside of nursery, hes definately defining his own style, & I think may even have a future career in fashion design! It was a rather hot day & he decided it was too hot for his t-shirt so instead he came up with a lovely off the shoulder crop top....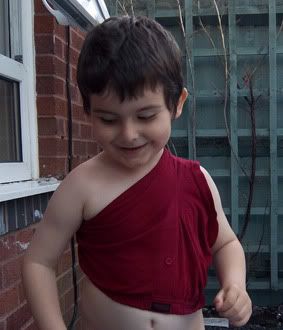 ....out of a pair of boxers!!!!!
We went to Zacks parents conference (we always called it parents evening but suppose they had to change that as its now held in the day) & when it came to what he can improve on his tutor just didnt know what to put, she is so happy with him (as are we). I did come up with a few points I thought he needed to work on which she agreed with but on the whole he is doing amazingly well, to the point that in Maths he's actually working at a GCSE grade C level, for a year 7 I think that is AMAZING.
Cooking - I am so enjoying cooking again, sometimes I get into a slump where I'm repeating the same meals & really am fed up with cooking anything. With the help of the FEAST bus I have re found my passion. It truely is a shame that this week was my last lesson on it :-( but I have learnt some invaluable tricks.
Kai went round to a friends house for the first time this week, we both had a lovely, relaxed time
Finally, being with my partner for 9 years & 1 day (today). Ryan & I are in many ways total opposites but this makes us the perfect team, we complete each other. I think it was the greeks who believed that humans were once creatures with 4 arms, 4 legs, 2 heads etc. To make these creatures so they werent so strong & powerful one of the gods (or maybe even a goddess) ripped them in two, scattering them across the world. These creatures, now human, spent their lives looking for their "other half" because only then could they be completely whole, can they be at their strongest & most powerful. This is how it is with Ryan & myself, together we are whole. I am the calm to his hot temper, he is the confidence to my lack of, He is the yang to my yin, etc etc etc, we even each other out and become balanced. We've had our ups & downs like all couples but after these 9 years I think we're stronger than ever.
If you wish to join us with our friday postive posts & let us know whats Rocking YOUR world friday then pop on over to
Celtic House
& link up.