So whats been rocking my world this week?
The Staff at Kai's (now ex) Nursery
They have been so fab the whole time Kai has been there, & made us feel so welcome. Not only have they created an atmosphere that Kai has always been happy & comfortable to enter from day one, but also one that I could also join in. I dont think they actually realise what a difference the way they act to not only the children but to the parents can make a big impact. The staff dont know I'm agrophobic & have issues with mingling with people but because they are soooooo nice (especially Mrs Kelly & Mrs Walker, purely as they were more involved with Kai I had more to do with them), and made us feel so very very welcome I felt able to go on trips with the nursery, & later on attend fun activities within the nursery. Not only within the nursery but if I didnt feel comfortable with the nursery I'd never have been able to go that bit further to attend the FEAST bus.

They held a lovely Graduation today for those leaving nursery, Kai absolutey refused to sing the goodbye song at the end - I dont think think he wanted it to be goodbye. I hope they all realise what a great job they do, how much we appreciate them & how they shall be missed.


Bargains
As many of you know I love bargains & there are some really good ones out at the moment. I managed to get 3 trilbys, 2 black leather lookalike medium sized handbags from Claires for .. bom bom boooooooom £10!!! Original price £67
I've also managed to pick up some goodies for the xmas hampers at great prices so hoping to have nice full hampers this year.

PROUD MUMMY ALERT
On monday we recieved a letter from Zacks head of english saying that at the beginning of the school year they tested all kiddies on their reading & spelling skills. Since then he's progressed by a standard of 2 & a 1/2 years!
But wait, wait, there is more!!!

Today he came home with a certificate ... he previously took the "United Kingdom Junior Mathematical Challenge", which is taken by years 7 & 8 out of 3700 schools around the UK (years 8 & 9 in Ireland) - He not only got into the highest 13% score out of the children taking part this year (over 250'000) but also was the highest scoring in his school. I jokingly told him I'm getting bored of all these awards & he's going to make me bankrupt with them all, lol

Back to the Hair
Zack wasnt too fussed at me attending his school events & being seen with me & my green/blue hair ... which I found a little confusing seeing his previous reaction.
Turns out that I actually have cool hair! His mates actually like it, to the point where one of them actually wants to dye theirs the same colour, lol.
In the picture
Kai's artwork is REALLY coming along, you can now see what a lot of the things he is drawing actually are, he's playing around more with colours & techniques. My latest favourite being...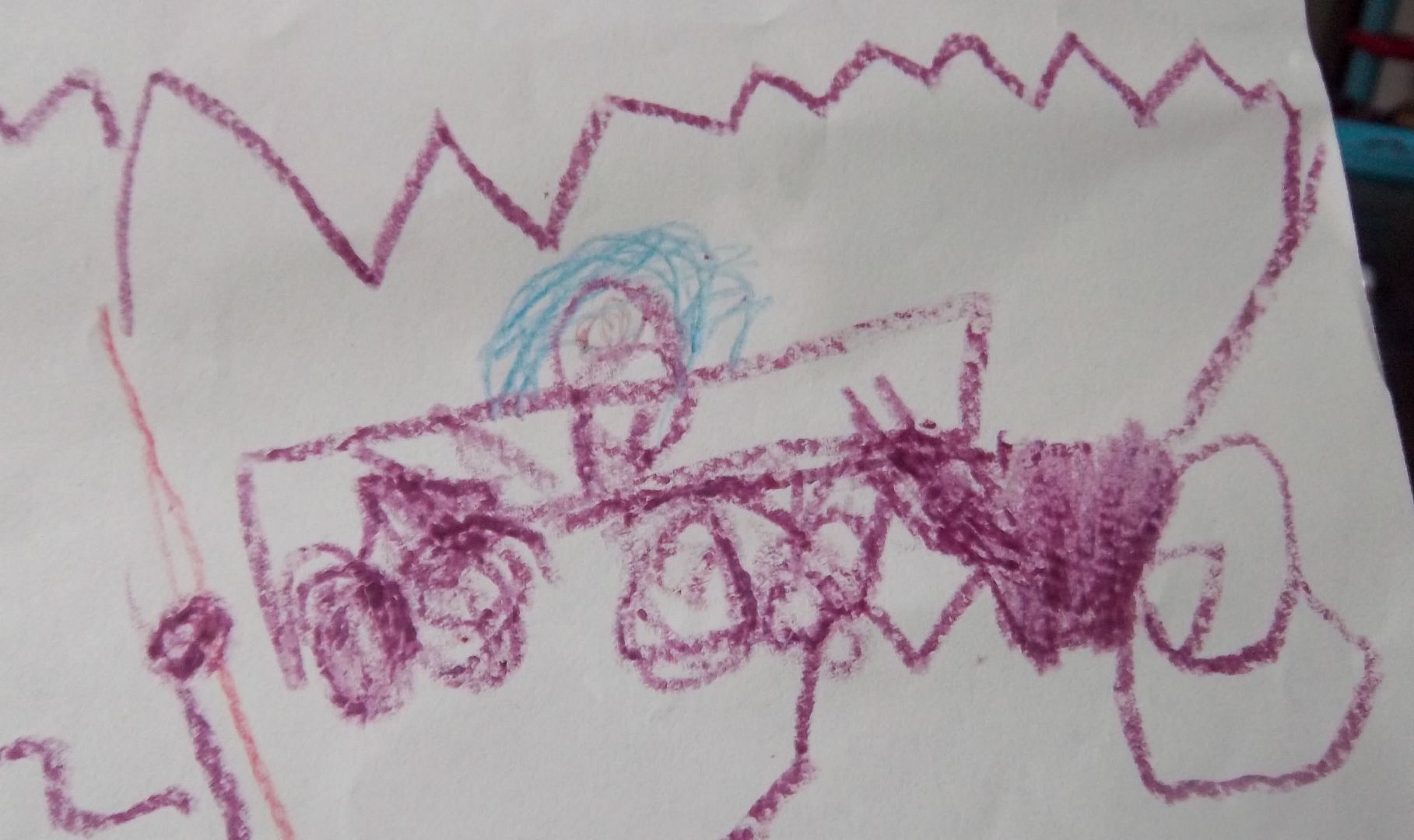 So its not his finest penmanship but its me on a bus ... can you spot my hair, lol, I found it so funny how it was nearly all done in purple but he changed colour specifically for my curls.
So whats been positive in your lives this week? Join us over at
Celtic House